After a lifechanging experience with Dani and Veronika in 2014, I was very happy to hear that the organsiation was building a second version of this great event. Unfortunately, my friends couldn't make it, but I found some new crew to share these good moments with! As I had already done the race in solo, I thought it would be great to share everything with a teammate in duo and so I found Marci to join me, perfect! After 4 islands, I know he is the perfect partner, fast, experienced and addicted to all kinds of mtb J. I am sure this would be something new for him and was looking forward to see his reactions.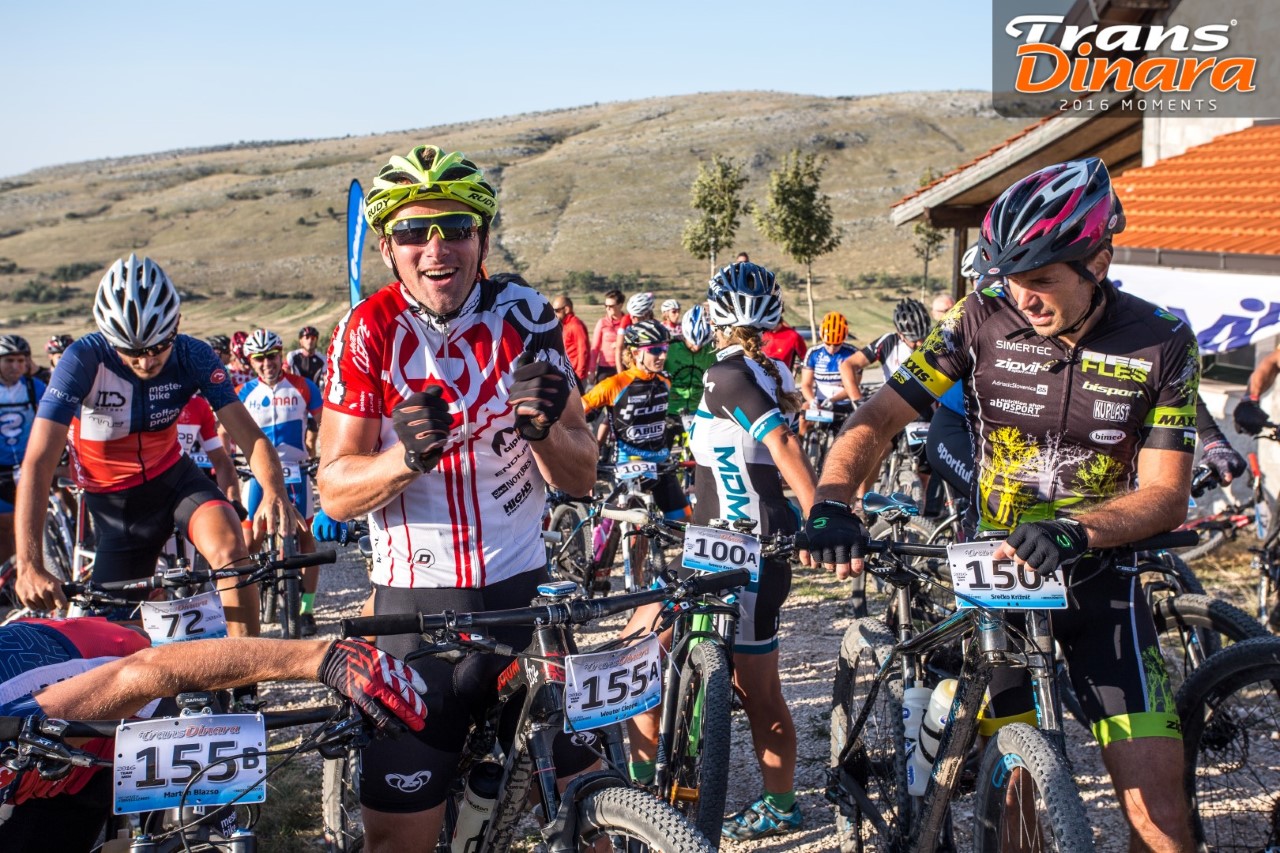 Day 1 : Trilj-Vrdovo: 82km, dehydratation
After a good sleep in the completely renovated sporthall of Trilj, we started early (8 is very early J) attacking the hills after 3km warming up on asphalt. I had expected this stage to be identical to 2014 in the first 50kms, but, only after 500m off road, already things were completely different as this time, there was a jeeptrack while 2y ago I was orienting on gps following some goattrails ( but that had its charm too!!). Soon, we got to asphalt again, and from here indeed, I recognized the track. But, somehow things were very different! This time, the rocks were smaller, riding was easier? Damn, am I getting that old that I can't remember stuff anymore? But, apparently, roads here change all the time with the weather. The government put new gravel every now and then, but rain washes it away again, so, conditions are always different. And, I wasn't complaining, easier, haha, I knew what was coming, easier is better, trust me. After 10km, our Slovenian friend Luka had some issues with his tire and so he jumped to the front to get some time to inflate the tire. We stayed behind, but, somehow, we never saw Luka again? Sure, I saw he had a slow flat in the rear, but how did he manage to repair and stay out of sight? When I asked the guys on waterpoint 1 at km25, they told us, Luka was already 3 min ahead! Wow, I was doing my racingpace, no way to close that gap! Around km 40, I started to feel weird? For 2 hours we had been fighting huge headwind, raw climbs, but this was something wrong, the power was draining, hmmm… Sure I wasn't sick, only tired from 2 months of jumping around Europe. Well, nothing I could do (I thought) and I started suffering, but I was still able to keep the pace of Marci and Andre. But, it was getting worse and suddenly I understood, I was dehydrating! Yep, I had only drunk 2 bottles in 45kms, and with the huge wind and high temperatures, we couldn't feel the heat and the sweating as it evaporated and you never felt wet… So, I started drinking a lot, but it was already too late. Power was gone (Andre was suffering with exactly the same problem) and Marci, well, he never drinks, he is a camel and so he never had issues… Luckily, we got into some rougher terrain where I had serious advantage on my Ram podium fully compared to Marci's BMC and his healing ribs (broke 2 ribs 4 weeks before…) so now I could relax a little and stop again at km 63 for 2 more bottles. On the asfaltclimb in no-one- land I already drunk 1 full bottle and at km 75, I was out of drinks again L. But, now we had reached the high planes and we could see the finish getting closer, so we stayed motivated. Marci was taking the lead keeping me out of that crazy wind and so we didn't lose too much time. We arrived as first team, but then we heard about Luka, beating us with 18minutes, whaaaaaaaaaa!!! Respect! Now came a nice long relaxing afternoon in the middle of nowhere, sleeping in the mountainhut, sharing the experiences with all the others, super! Dehydrated? No, charging my batteries fast living the good life!
Day 2: Vrdovo-Vrlika: 76km: bumpy!!
Man, if yesterdays wind had been crazy, it was nothing compared to today! Somehow, I slept like a baby and hadn't heard anything happening outside the hut, so it was a fast way of waking up putting your nose out of the window into the storm! After an almost disaster (no coffee J), thing all worked at the last moment (yes, organization thinks about the most important things in life, they carry with them a big coffeemachine and they construct a wireless network for everybody to use, now, what else can you need? Oh, a bike, well, they also got that covered with the people from giant. For example, the team in 2nd place destroyed their bike in stage 1 and yep, from the middle of nowhere, they get a nice 27.5 giant to continue their adventure, super!) So, 8 o clock again, time for Marci to make some jokes. Imagine a start steep uphill on loose rocks in crazy wind and yep, the joke is to sprint away from the first meter. Man, man, so the poor teammate, me, had to try to close that gap and to go with him, but it felt ok, somehow it started my engine and within a couple of minutes, we were 3 left, Luka and us. In the first descent, we lost Luka and we just kept a good pace surfing down the Bosnian side with spectacular views! Now we were on faster jeeptracks in the forest and suddenly I felt a huge pain in my shin bone. No idea what is was and so I kept pedaling, but after 5 of those moments, I realized that once again, the dinara was trying to kill me. In 2014, it was an exploded bearing in my gold wheel, this time it was something really painfull on my shinbone and things would only become worse. But, the track was so beautiful and that pulled me through. The pain was after every second of resting the legs (no pedaling) like in a turn or in every descent and it stayed up to 20seconds getting tears in my eyes, but looking around, strangely enough, I could still smile! We survived the higher mountains and jumped down on some rocky track to the final waterpoint. From here, we were safe, roads were easier, but that also made me think more of the pain and when Marci started to hammer down the pedals after a small misunderstanding, I wasn't so sure about riding tomorrow… But, we made it, a good afternoon with the best painkiller (beer, maybe too much?) and some great beansoup from the organization. That was enough to survive the night and to get ready for the last adventure.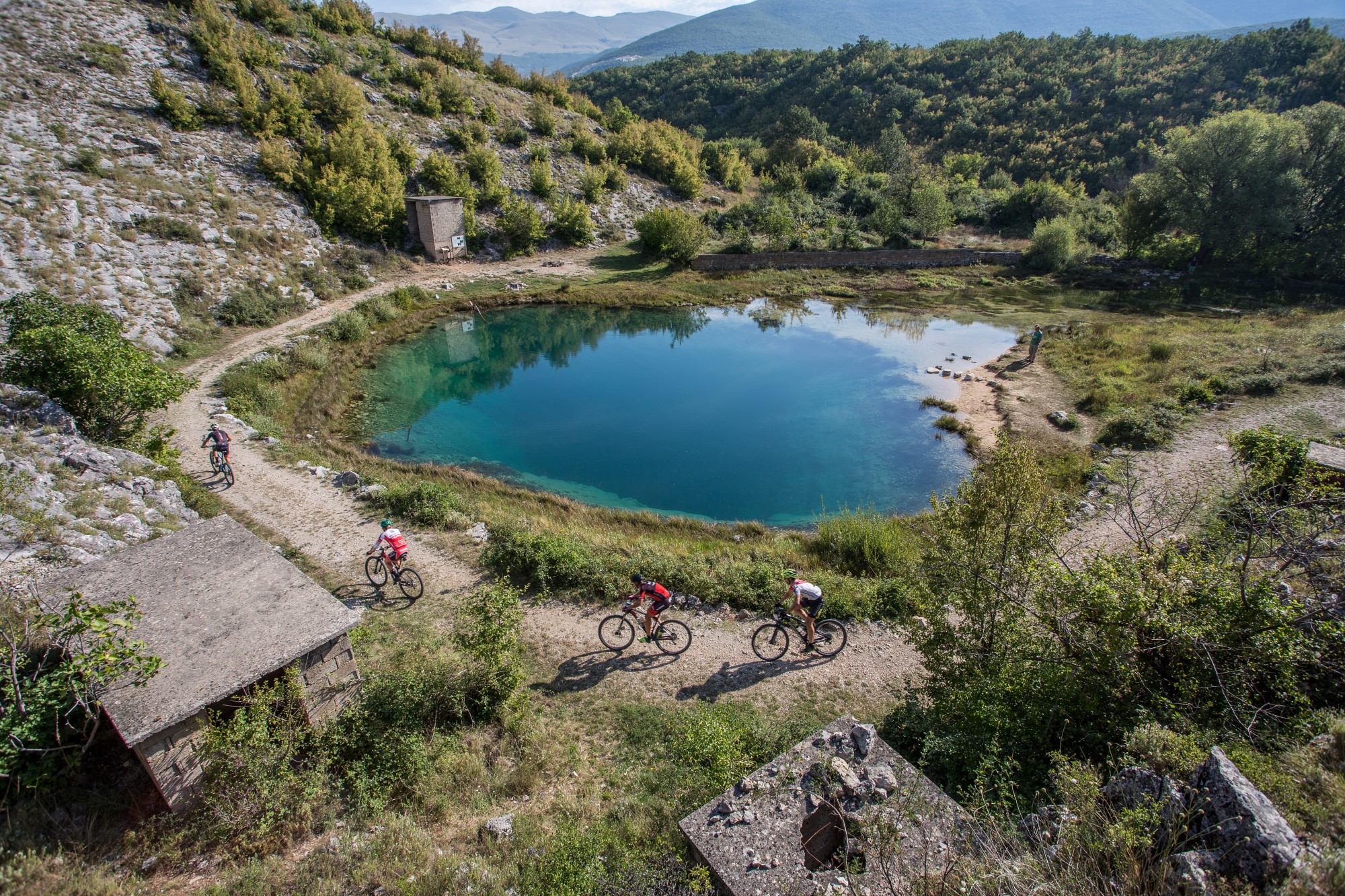 Day 3: Vrlika-Knin: 50kms of sprinting
Contrasts, they make life interesting, beautiful and so also in this race, the contrast between the fast easy 3rd stage compared to the first 2 is incredible! Less interesting? Less fun? No! More time to look around as the stones grew smaller overnight ;), but then again, no time for looking long as the speed is up and drifting on the limit is too much fun! In the start I decide to kill pain with pain. If I suffer from pushing hard, I might forget the leg and in a way, it works. This makes the first group small, Luka, Andre, Marci and me and the pace is great. Somehow, the gaps in the ranking are already made and so things are very relaxed, but when the 1 climb of the day arrives, Marci still pushes to the limit and as I didn't expect it, it hurted bad! Andre was already tired and the crash into the car at the end of day 2 wasn't helping eighter and so 3 of us stayed together into the fields towards Knin. Fields are flat and easy? Nope, this is transdinara, there is no easy! So, bumping around till last 5kms and here we realized to just slow down a notch, to enjoy and recover in the final kms. To end in friendship, great weather, and in the comfortzone, what else could we ask for? Climbing to the fortress at the top in Knin was great, the leg was still holding on and so happy faces again!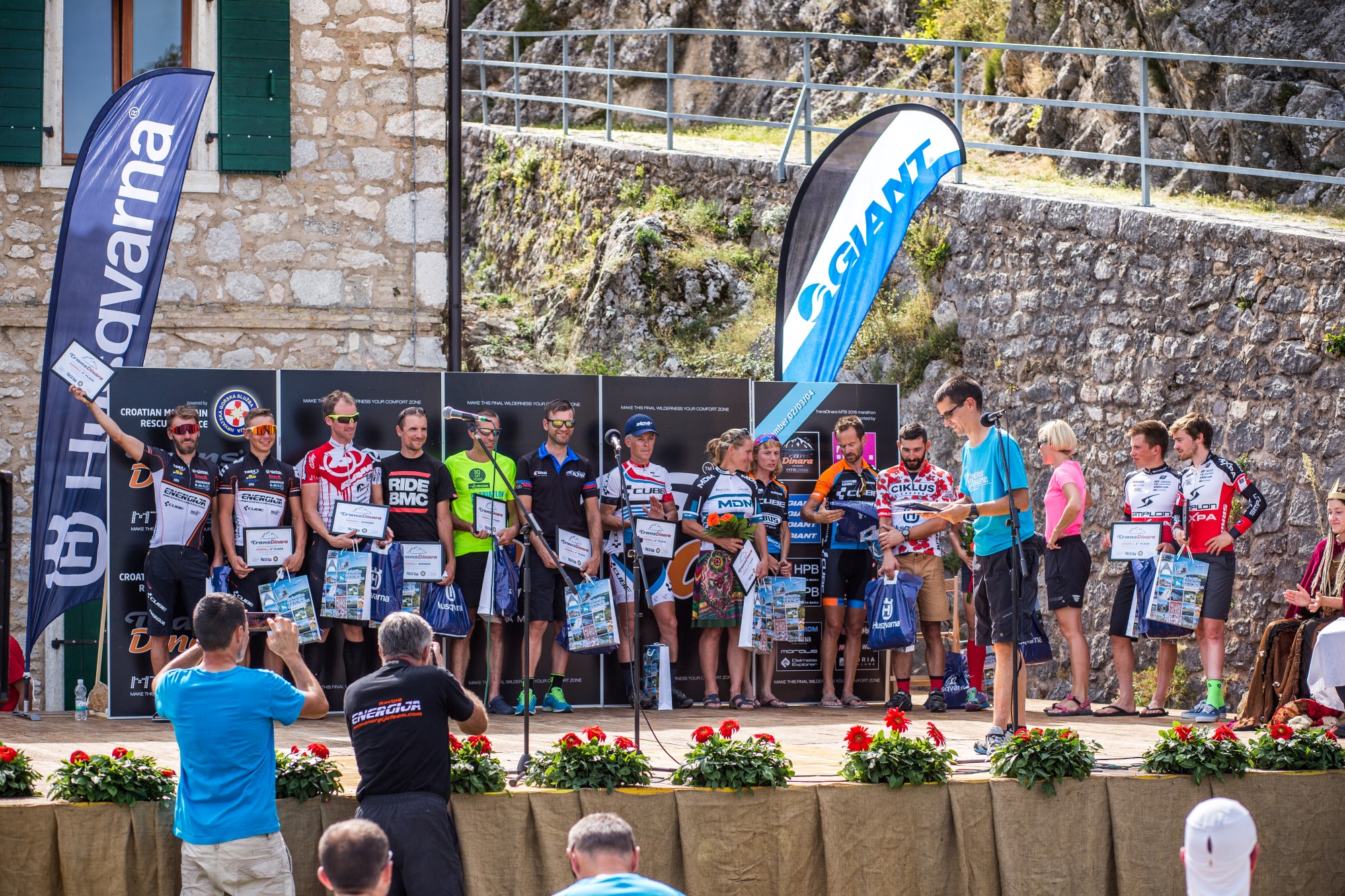 Thanks to the organization! It was amazing again! Track became even better, the experience once again unique! I look forward to 3rd edition, but moving back to Belgium soon, that could be a problem, but then again, there is a solution for every problem, we'll find it! Thanks to Marci, the perfect teammate, sorry for the bad Belgian joke at the end of stage 2 but you made me suffer for it. Thanks to the whole bunch of riders creating the perfect atmosphere in the camp every night. Hope you all got home in 1 piece, hope to meet again in the future!