Day 0, registration:
Yes, some things might never change, we were late, again…. But we still found the very kind people from the organization waiting and helping us to get our full starting pack and some words to explain our holiday rules ;) . Ok, so we have a number, but where is the food? The parking? The camp? Luckily with 3 peoples looking and with 2 cars, we managed to find all places in 1 hour, ahum… Maybe I was just tired, but I didn't feel the usual german punctuality so far? A sign? But, anyway, we had dinner, we all made it to our 'beds', and after some nice walking in the morning, we were super lucky and even found a –small- breakfast. So far, so good.
Day 1, old school day, Imst-Nauders, 89km, 2950hm, 23th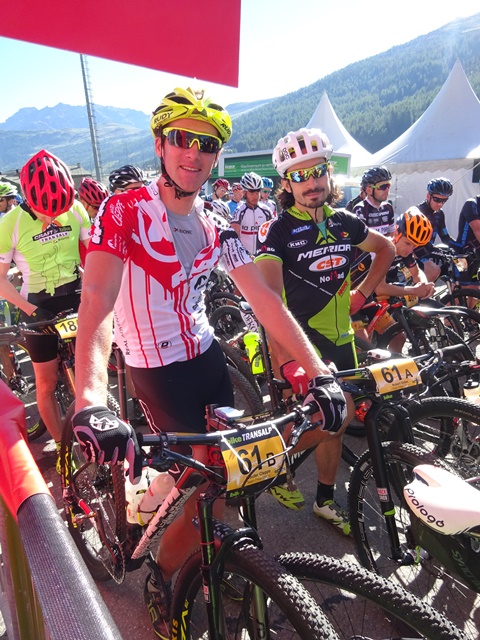 So, after finding breakfast, the next mission was to find my teammate Rob. We had to meet at 8.15 at the startline, but nope…. So, waiting, looking, stressing, I guess it must also work as an alternative warm-up, no? The good thing? We could get into startbox A1 thanks to our 2015 result and so we didn't lose a good startingposition due to our professionalism… 9.00, a start like in all transalps: neutralized behind a car on asphalt in small roads with 900 crazy nervous bikers, great L. But, no crashing, no losing my teammate, so all good. After 6kms of burning the brakes, we finally go. With 53% asphalt and 39% schotter today, I don't think I need to describe the track, indeed, copy paste from the previous races in the transasfalt, so , a little disappointing… Our race goes well, Rob isn't suffering, almost enjoying it and I can talk all day long in my mother language, as all teams around us are Belgians and Dutch. So we all do what we like best J. The waterpoints are as usual: we are the only ones to stop, but after 2015 we know the drill: be fast with the bottles, sprint back faster to the group. And that works. Lucky for us, after the waterpoint, we get to the only trail of the day? Trafficjam!! So, that makes life frustratingly easy. After this another 40kms of typical ride and we even get lost in the endurosection as the one guy who should be standing out to show us where to jump into a small trail wasn't doing his job and so we were flying straight past it at 60 km/h losing all the time we had just won in climb 2. But, c'est la vie, the race is long… Up to the next hill. But here something strange happens, Rob suddenly feels like shit and he loses speed fast. So fast that I realize this is troubles and so I have to do some pushing and talking to get him to the finish. When we reach the finish, he is really sick, but after a fast way of losing weight, his stomach settles and he looks fine again. So, day 1 wasn't great but at least we got through it without big damage. The food at the finish was perfect, the bikewash even better and the dinner up the mountain with the cablelift was awesome! So, good points to the organizer.
Day 2, 'Tire troubles' day, Nauders-Scuol, 56km, 2100hm, 17th
After my second night of sleeping on the floor in the camp, I was surprised by the breakfast system: all riders in the camp had received a ticket for a hotel in town and added a map how to get there. Sure, I had to walk to the other side of town, but is that a punishment? To walk at 6 o clock in the fresh cold mountainair, seeing the first light getting on the snowpeaks, waaw, I loved it (with a jacket on). When I arrived in the hotel, it was a walk into heaven!! Supernice owner personally invited me in, showed me around and there was too much food to try everything, njamnjam!! After this, I picked up the bike and went to Robs hotel and so no stress today. The start was perfect, 500m in town and bam, up the hill. Sure, some traffic issues already, but we quickly found our way to the front. With the first waterpoint at km 9.5, I left Rob behind to fill up the 4 bottles and joined again in the descent. A nice trail brought us into Switzerland and we were in a good position. After a small climb, there was a nice enduro section, but now I realized I had a problem: I could feel the rim twice, so I was losing pressure in the reartire, hmmm. I remember hearing a stone being pulled into the rim in the fast gravelsection before the enduro, maybe it had cut my nice fresh maxxis Ikon? Luckily, I had some time waiting Rob and there were lots of people from the teams with big pumps, so I made a pitstop. After that, when I was closing the gap back to Rob, I realized I was still losing pressure and so I passed him to try another theory a little further. I guessed the small hole was in the side of the tire, so I put the bike to its left side and spinned the wheel + used a cartridge to inflate. Back to Rob and praying it was the correct side, but nope, it was the drive side that I damaged L. So, I decided to get ahead again, standing on the pedals for 7kms to the next waterpoint. Here I took another big pump and at 2.5bar, finally I found the problem: a tiny little hole on the rimbead. But, Notubes had no troubles with it, just put the bike on its side, spin, 5 sec and done. So, first tireproblems solved, we lost maximum 1 minute, , time to attack and luckily for us, trails were coming again. So we catched up and passed the other teams again and then we just had to survive the long boring last 10kms, 17th place, job well done.
So, day 2 was good, a beautiful finish-area with lots of calories to recharge, another dinner in a skistation with unlimited food at night, great atmosphere with the Belgian delegation hmmm. Up to day 3.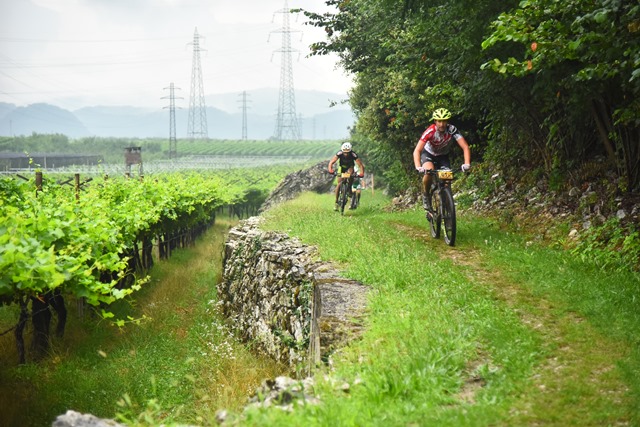 Day 3, paradise, Scuol-Livigno: 72km, 2600hm, 17th
6 years ago, I had done the exact same stage with Ken, so I knew what to expect: a real nice stage! I also remembered to startclimb: too fast for me. But, Rob had good legs and we were in a good position after 20kms. Now, we entered the trails and that's always motivating us in doing better. Suddenly Rob had more power and thanks to a strategic move to the front of a group at the start of the enduro section, we managed to jump away to the next group. More steep climbs, nice flowy trails and into the high dry mountaintrails above the lake with beautiful views all around, but no time for looking, as 1 second could lead to a deadly crash. But, smart as we are, ;) , we managed it and so I I jumped ahead to the second waterpoint for our 4 fresh bottles. Good stategy again and now we started the final part of the day. Except for some annoying electrical bikes coming up and down our trail all the time, the last climb was nice and beautiful. Rob was getting tired, but the trails gave him wings and i also gave him a push or two to get us to the finish in 17th spot again. The camp users now had an easy life as everything was at 50m from the finish: camp, food, breakfast, bikeparking, showers,… So, maximum recovery after a perfect day.
Day 4, the highest stage, Livigno-Bormio: 73.5km, 2550hm, 15th
A neutralized start on asphalt all the way through Livigno, so stressing, but once again we manage to survive and even to keep our position close to the front. Soon enough, we get to some nice schotter road and when we start to climb, things become peaceful again. Rob is going well and we are getting to our normal position early in the stage. After a fast downhill we get to the valley where we had the second waterpoint yesterday. From here we go in the opposite direction, but soon enough, we go to the right into another mountainrange. Now, it's a fast slightly climbing combination of trails and tracks till km 30. As Rob doesn't love this part, we just keep a good pace with a group ahead and 1 behind us. After this we fly down gravelroads till we arrive at the first waterpoint. As it is in the descent, its badly located for us as we lose time as we now both have to stop (and all other teams have support). But ok, now starts the long climb from 1500 to 2800m on the Umbrailpass. I hope this will motivate Rob enough to keep pushing as asphalt isn't really our thing, but it works out all ok. Close to the top, where we leave the road and jump back to trails, I go for the 2nd waterpoint. This way Rob can keep the lead on the –much more motivating- trails and I jump back with the 4 bottles a little later. The altitude isn't really affecting me and so it's time for fun. Amazing views, great trail, nice!! After a small pushbike, we reach the top at 2788m. Now it's going down to the finish! The first part of the descent is great, real trails but soon enough, we get back to the fast gravelroads, surfingtime! Luckily, after 3 days, I got used to drifting with my RAM Ht again and so I feel safe and fast J. Rob goes a little slower, but he has fun and he can charge his batteries for the small climbs we still have to survive on the way to the finish. Perfect last 25kms and happy we find the fountain in Bormio to cool the legs down after we had good food again on 'our table' in the maxxis truck with the great owners. The camp, the bikewash, everything is easily found, but it's not paradise today, food, sleeping place, all is limited, time to find some extra calories with all the guys a little further in the local bakery till late at night.…. But who cares, the riding is getting better, more trails, more mtb indeed, I start to think the organization is pulling it off, the really changed the track in a very positive way!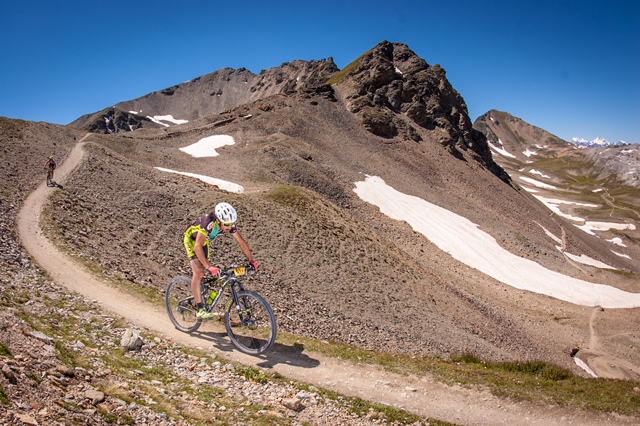 Day 5, Endurooooo, Bormio-Mezzana, 86km, 3100hm, 13th
Breakfast? Hmm? Who, where, what? Interesting, we find a table with the strangest leftovers from yesterdays' dinner. Luckily, I start to become hungry after 4 stages and so I can eat it all. Also, we now know the drill, the packing and unpacking is going faster, so, mornings become relaxed. At 8.10, after 15min rolling, I park my bike in the A2 startbox. Around 8.40, Rob usually also arrives and we can still chat before business. Today, the start won't be as bad, as we can climb straight from town and so people behave (the usual idiots who like to push to the front don't have the power to do so when it's up…) So, in the usual company we attack the first hills. For Rob, it's not fast enough and so we get away slowly. Good idea, as now we arrive alone on the passo Gavia, another asphalt climb to the top today at 2621m. As this must be our worst part, I am happy to be ahead. I help Rob where I can and finally I also jump for fresh drinks. More pushing and yes!!! We reach the descent still ahead. Hoooooo, endurooooooo!!! The trail is for us, nobody ahead, no pressure from behind, let's go playing! The guys have invested time and energy making this trail, so it's not pure natural, but let's not talk details: it's perfect enough! I see steep switchbacks, big rocks, ohh, go RAM, goooo, and it goes perfect. The trail never ends and after a while, I can't see Rob behind me, so I make a small pause (also happy this give my brakes a break ;) ) Then further down and with a smile we start the last climb of the day. A smile till I recognize the climb from 6y ago, oh, it will be a hard one! The first part goes ok, but maybe I pushed Rob a little too hard on the first climb, I can tell he is having a hard time (can't be a holiday every day). I go for the bottles and after that I try to push a little, but on these steep rocky trails where the gradient is constantly changing, it's almost mission impossible. We are losing time and for the first time I get a little nervous (sorry Rob), but we finally reach the summit. Now, again, only 25kms of fun is waiting for us. But, like last year, I see that 2 waterpoints a day is not sufficient! I am out of drinks 20km before the finish, very annoying! If I get in troubles at my speed, what does that mean for the slower participants? Big troubles! Please, organizer, you need at least 3 refreshment points a day!!!!! The descent is on flowing trails but also with still some steep climbs and they hurt! Apparently I pushed today and so I can imagine how Rob is feeling, so I let him do his thing. In the faster part, we get company from the Buff team and they work perfect with us all the way to the finish, 13th place, super!! The camp is strange, 3 showers in a box on the parking of an old school, but…. Beds!!! We all got 1 of those military beds, heaven after 4 nights on the floor! Great timing as I am tired and so I am a happy man after a good dinner in the sportshall.
Day 6, problem-day, Mezzana-Trento, 88km, 2400hm, 19th
Oh, luckily I slept well, breakfast was perfect, because another 12kms of neutralized start stress, this time even with a bonus, when all of a sudden the topriders make the whole race stop as some need a piss??? Man, people watch too much tv (tour de france), piss stops are not part of the race, you can't stop the race for some idiots in the front! If they really need to, they have to do as us, sprint ahead of your teammate and earn your moment! Anyway, after this short interesting moment, the climb starts and Rob is recharged, he goes well! Around km20, just when he is starting to lose motivation, the climb become steep and he loves steep, so all perfect! As usual, I go ahead, no not for pissing, but the bottles, remember? Now we are on great trails again, pure mtb! Man, fun, and we get to the bottom of the descent with our new friends from Buff team. But, yes, it's a race and we are 14 and 15 in the general classification with only 30seconds in between us, so, no talking today, it's racing! We catch up with the teams ahead and slowly we are becoming a good group working hard and fast. But, yep, waterpoint 2 is coming and so I tell Rob to sit in the group and to let me try to get back with all the bottles. Luckily, these guys now are pro riders and instead of attacking, they slow down a little to give me to opportunity to kill myself only 10minutes to get back. And sure, the moment I get to the group, the pace goes up big time, making me suffer another 20minutes to try to recover from the first 10. But ok, no holiday today for me neighter it seems. But, most important, we stay with the Buff guys and I know soon, one of the guys will have to slow down too. But, before I can think further the strategies, bang! I see my body with xx1 cassette jumped out of my Tune hub? Whaaaaat? The Topeak ergon team is catching us and they try to help pushing me a little, but the road is too steep, I have to run. 22km to the finish, this is going to be bad! But, then we hear the finish is at km 78, not at 88, the last part is neutralised, too risky in the towns. Hmm, so 12km run? While running, I try to understand the problem. I realise my hub isn't the problem, I have just broken my rearaxle and so the frame can open and that leaves room for the freehub -under pressure of climbing standing on small gear- to jump out. So, I try to tighten the axle, but apparently the nut is broken, no more wire to put my stupid extralite axle into. Ok, we reach the top, and I try to ride, but without axle, bike is going all over the place, so I go slow, very slow till even that becomes impossible. Thanks to the huge powers on the frame now I also lose a screw of my dropout and now the wheel is really falling out of the bike, derailler hanger, all is moving out. But now we reached the hiking part, so we all need to run anyway. After the steepest part, I calm down, try to reassemble the bike as good as possible, the freehub in the hub, all parts in line, the axle through it to keep things in line if it can stay there, sit on the back of the saddle, keep the wheel on the floor at any costs and go slow. It works!! I burn my front brake completely on the remaining steep descent on concrete (rearbrake cant be used as to much power to rear axle then), but I manage and now it's only 5 flat kms. I can keep the speed up and I am so relieved I could make it! Still I am superstressed as somehow I know it won't be easy to fix all the damage, but luckily we have our Maxxis friends. The guy goes looking for help and even gets me a new dt axle from the scott boys, makes the shimano boys drill me a new nut and within 2hrs, the bike is ready for the final, oefff. Thanks to everybody for the help!!!!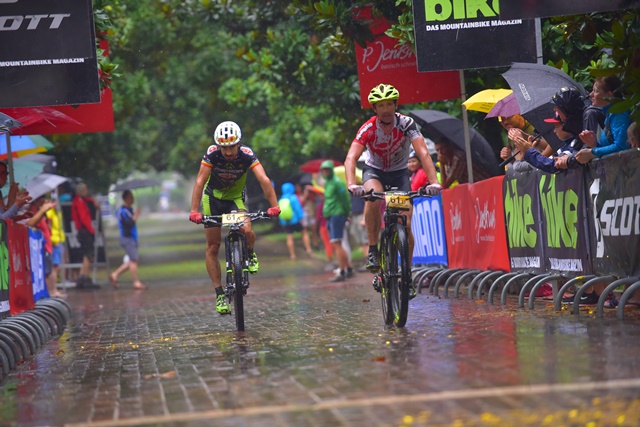 Day 7, the final, Trento-Arco, 54km, 2000hm, 12th
Last day = easy day? No way, 7 days is 7 days and this last one will count for 1 for sure, short and steep + lots of fun trails. We start as usual…, but after only 2.5kms, we turn left steep up and sure, trafficjam already in the top 30 as people shift back too late and get stuck on the steep street. I lose Rob, but ok, I know he will like the +20% angle and so I look for a good pace. When Rob joins, we try to get a little to the front, but as the gradient is constantly changing, it's hard to find the right speed. Rain starts, making things even more interesting, slippery! When the Topeak-ergon guys are coming, it motivates Rob to follow and so we are going well. Still, our Dutch opponents are closing the gap for the first time this week and they even start to pull our small group. The pace is too high, I see dead faces on bikes, but ok, it works and we catch more and more riders. The long 1500hm climb is coming to an end and I sprint for bottles again. After this, we lost the group, but they are never going to get far. Rob has a hard time on the last kms, but now its playtime, the same trails as last year. So, we know what's coming, but in the rain, it's Belgian times! Sliding into the corners, looking for grip, oooo, love it! But Rob is Romanian, not Belgian ;) So, after some fun, I have to wait some minutes for Rob to continue the second fast gravel part of the descent. Now, only 1 small climb is left and we sprint up to the last enduro stage. Back with our Italian collegues, we start the last fun part, but although it's the same as in 2015, on wet rocks, things got different! I like it and we catch back our Dutch friends and leave them behind after a nice relaxed chat. Now, only 10 flat kms to the finish, so we relax and enjoy (and keep on pedaling) and before we know it, the game is over...
Result: 15th
Conclusion:
Well, I am happy to say that the organizers have improved what is most important to the riders: the track. More technical, more fun, less boring fast asphalt, so maybe the transasfalt is dead, long live the transalp?
But, I feel that by putting more effort into the track, they kind of lost some energy in the other parts? Logistically, signs, volunteers on the track to warn the riders, waterpoints??? Surely the last will be the most important! If we in top 15 can't survive with our speed to get to the waterpoints without dehydrating, what about the 700 peoples behind us? I think this must leave room for the biggest possible improvement in 2016: 3 waterpoints on most of the stages!
Overall, the race is still good, but not better anymore than the average smaller organizations all over Europe. So, yes, trails have improved and sure, the area is stunning, but I didn't feel the german toporganisation-sensation, just a normal 'good'. So, where does the transalp stand out? Because the alps are still a unique place, reason enough to go there and with an experienced organisation that is still willing to improve, to listen to the riders, I think it will always be a safe choice for a great bike adventure….