The race:
Stage1: Trailday: Bad Kleinkirchheim-Bad Kleinkirchheim: 48.5km, 2250hm, 17th place
With starting nr 282, I had to move in the box B, meaning there were about 300 people in front of me. So, with the start at 9.00, we were all together in a nice big group from 8.25 waiting for the adventure to start. Finally, 9.00, I hear a start and about 2minutes later I also get over the starting line. Woow, 300 people is a big group and so I better start to work. As usual, the experienced organizers don't send the big group over trails right away, but over wide gravel roads and so there is the option to overtake. But to overtake a big group like this is troubles. It takes time, effort and patience, but after 30minutes, I finally get into my normal pace. I am still catching people, but now it is at a normal pace. The climb is a little boring on the typical zig-zag gravel roads, but I guess it's the easiest and fastest way to get up the hills, right? After 50min of climbing, I get to a group with some semi-pro riders and it's time for me to take my rainjacket as its windy and cold up here at 2000m. On the top there is the first waterpoint, but as everybody around me has helpers to give them fresh drinks, I decide not to stop and not to lose my new group, I'll try to make it to the second refreshmentpoint after the descent. When we start the descent, we have to climb over a fence and people are a little stressed when they are forced to line up. We get to a nice single, but I am slowed by the riders in front. Hmm, maybe I should have pushed harder in the first climb to get out of this "trouble zone", but it's too late now. After the single, we get onto wider roads and I start passing the others. Then, we get to the enduro section J and it is a beautiful trail. Nothing crazy, just a nice trail trough the forest 100% enjoyable. I think I am in top 40 now and it surprises me that some of the riders have troubles with this kind of trails. But, for me, it's a big smile all the way down to the valley! Oh yeah, so this is really the short trail version of the transalp! Loving it. Down in the valley, we are on a mix asphalt-gravel-trails and I feel good. But I am out of drinks. I can see the helpers of the teamriders everywhere (20times a day), but I have to wait for the official waterpoint. A little too late, I arrive and I make a full stop to refill. Just before this point I found the dutch rider Rob and he is riding a perfect pace. As he is using a powermeter, he is very constant and so I will try to keep up. Sure, stopping for water messes things up a little as I have to close the gap now. Somehow, Rob isn't too happy with the "always talking Belgian"and after some time he accelerates to get rid of me. In fact, now he is riding 20m ahead and that is fine for me, I can still do the identical pace. We keep on catching other riders and that works motivating… Just before the top, we have to do some walking on a steep field and I catch up with Rob again. Now follows a nice up and down trail at 1900m altitude: super! But, oioi, my bottle is empty again L. I must have been drinking a little faster to compensate for the thirst before the fill-up. So, I have to be carefull not to make sudden moves leading to possible cramps. And with also my left cleat coming loose from the shoe, I can only hope for not too many obstacles. But sure, one fallen tree after another and lots of climbing over fences makes things worse.. But, still, its going great, enjoying this stage and I can't wait for the next descent! But, this descent is just the schotter road from climb 1? What is this? Maybe with yesterdays huge rain the organization has changed to line B? So, fast descent with some short stretches of trails when cutting off 1 or 2 corners. I stay with Rob all the way and just before the finish there even is a interesting part in a slippery ski track, so, fun again! 17th place is not bad at all starting from 300th place, so I am happy with the result and if todays track was the warming up for this 4peak race, well, can't wait for day 2 J. Now it's time for a buffet, yep, after the finish line there are 15 tables full with foods and drinks. From sandwiches to cakes, from water to coke, fruits, everything, njam njam!!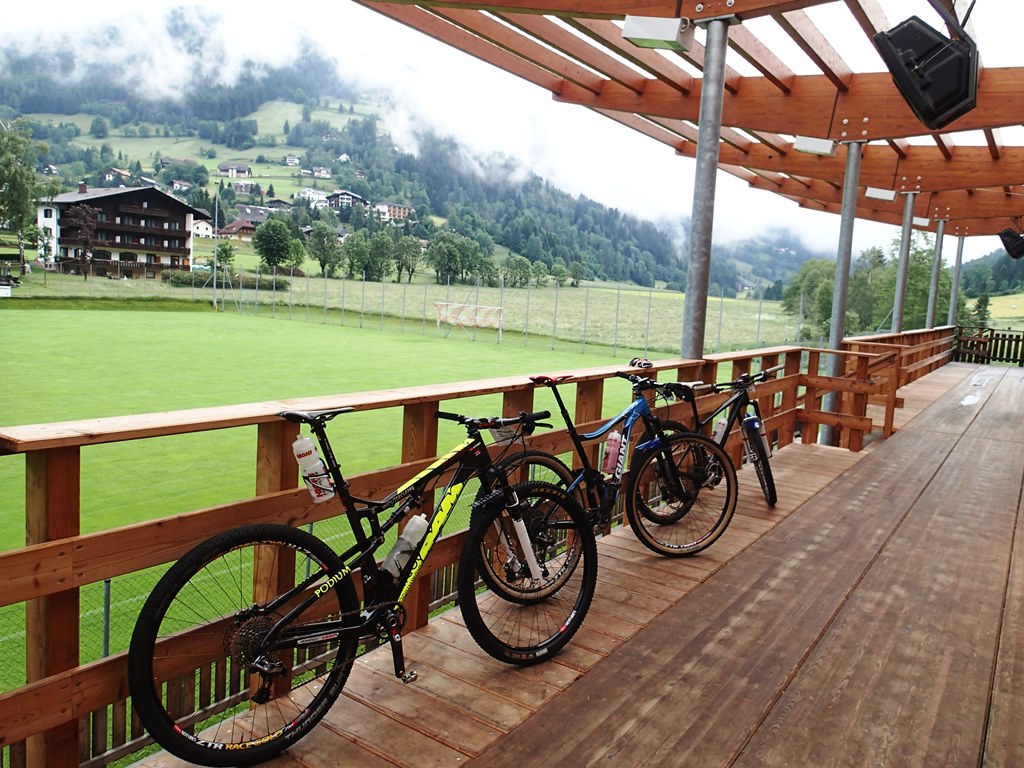 Stage 2 : The Belgian road classic: Bad Kleinkirchheim- Hermagor: 88km, 1750hm, 21th place
As the start of the second stage is a descent on public asphalt roads, the organization decides to neutralize the first 10kms. What? Well, it means we all have to stay behind an official car during 10km downhill. I'll tell you, I was happy to have a 180mm front disc because the brakes have never been tested harder then here ;). Also, as usual, you have the funny heros coming from all the way back passing on the most impossible dangerous places to get to the first. So, dangerous, boring, bad…. Finally, after 10kms, we can go and sure: more troubles… The boys that just passed everybody are now dangerous obstacles driving 10km/h slower than us when we speed up to attack hill 1. And for the people behind us it means even more troubles as these idiots will be creating traffic jams on the first trails where they lack speed, power and technique forcing the better riders behind them to get in line for unnecessary walking. I am lucky, I stayed in the top 30 and by the end of the trails, I can jump even to the next group (place 15-25). 1 Gravel climb, 1 good trail and now starts asphalt, loooooots of asphalt. All the way down to the main road, on the mainroad, after the mainroad,…., what's this? After yesterdays euphoria, today is a real cold shower. Luckily I am in a great group and so we can make a nice Belgian road classic… When we get to waterpoint nr 1, I realize I will be tested. I am the only rider who has to make the stop and the organization is not ready (empty cans for drinks). So I lose (too much) time and now I need to try to jump back to a 9 person group that is riding +35km/h. Well, I can tell you: I hurts! But I make it… We get to a nice mountainpass and I am happy with my group. I know I'll have a hard time today, but I shouldn't get into troubles (except for refilling) and so I just sit back and pedal. On the uphills, we start to lose some of our guys and the group is melting to 6 riders. After a short easy descent we get back to the planes and now it's a mix of flat gravel and asphalt. The group understands eachother perfectly and we are riding like in a real roadrace taking short turns in the lead. Well, I try to… I have no experience in this and so it's super hard for me to do this, but the others don't complain, they all work, perfect! When we get to the 2nd waterpoint, I make it fast, superfast and when I am sprinting back to my group, I see real sportsmanship! They have seen that I have no support and so they decided to slow down enough to give me the chance to get back: thanks! From here again kms and kms flat stupid roads killing my legs till the last 10kms. From here, we start to get some small climbs and finally, we leave the roads again and get back to the forest, the nature. Somehow this works inspiring and I can feel some power coming back. But it's too late, the strongest 3 guys are gone. I get together with nr 70, Mario and we try to minimalise the damage. But, being tired, we still lose a lot of time. The advantage of being a little sad and tired: we don't care anymore, we just want to get to the finish… . 200m before the finish, there is a T split and no sign? Luckily, we hear noise from the left and indeed, there is the finish. 21th place, a very disappointing route, hmm, hope for better days to come. But, the days ain't over yet… After 15minutes of testing all the great food and pasta's again, I wonder where everything is?? Bikewash, shower, camp? No signs? But I see the teamhelpers with maps and after some minutes I can find the info point. I get a map to help me find the bikewash and … the bus?? He? Bus? Yep, our bikecamp is 10kms further and so you have to take a bus over there.. What if the weather would have been bad? Cold frozen people waiting 20min for a bus and then another 15min on the bus to find… cold showers? Hmm, somehow today I don't see the 25years of experience with the organizers here but I see mistakes and possibilities to disasters… But, back to reality, I am still alive, today it isn't cold and I still feel good, so I clean the bike and I drive my bike to the camp for a cold showerL . They say it's good for recovery of the muscles so, tomorrow, I attack J.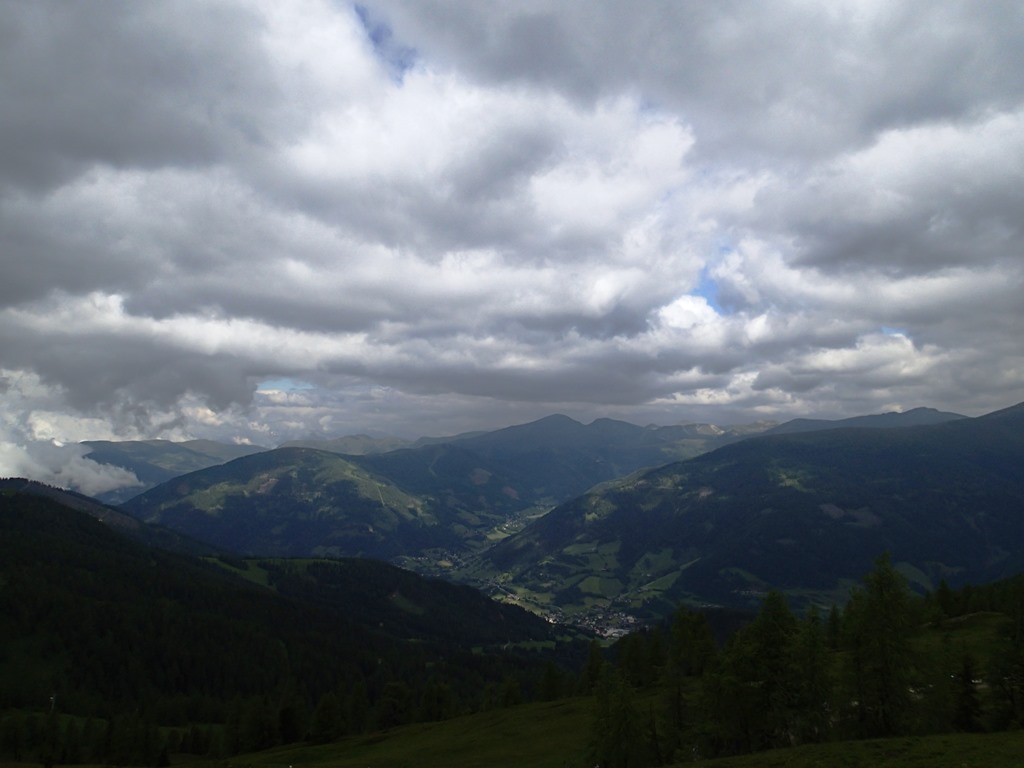 Stage 3: a touch of Italy: Hermagor- Tropolach: 58km, 2300hm
Having the camp at 10kms from yesterdays finish means we have today a nice 10km warming up to the start, so you see, everything has advantages J. But, unfortunately, I would discover at 9.10 that my warming up in one direction would be another neutralized start behind the car in the other direction (back to the camp)… Luckily, this time the whole part of 10kms is on narrow roads and so I don't see yesterdays idiots jumping back to the front (there are always exceptions…). After 30minutes, the car brings us to the first climb of the day, 15kms with 1300 meters up. And this is just the start because we will climb 2300m in the next 38kms, so better balance the power. It's a little tricky to keep my personal pace when you see so many people accelerate to the front, but for me this is my new style: just concentrate on my feeling and HF and stay in the comfortzone. Maybe it's a little too slow on 1 moment, but there is always the next day, so , in the long run, this works perfect… And, when I see Stefan Sahm after 5kms of climbing, I know I just found my collegue for the day. We climb together and after my short stop at waterpoint 1, I rejoin him all the way to the top. His pace is perfect! From the top the views are magnificent! We are looking to the Italian side and it reminds me of the Dolomites, great! The descent starts on a skislope with nasty watergullies and no signs to show the danger. And, yep, after only 2 ditches, I see a victim, yesterdays stage winner with some serious injuries L. If not crazy enough, the organization put straw on top of the grass and after making a couple of 2-wheel drifts, i get next to the line into the grass and rocks, much safer!! When we get of the steepest part, we enter some good trails and I can't believe it: Stefan is flying on his hardtail! He picks lines I would never think of and they work! As I know he has so many years of experience, I copy his lines blind, but it takes a lot of courage… But, it's a real eye-opener for me to see how the real pro riders win time on decents… Thanks to this, we get to the next group and now starts a funny up and down part on bumpy rocky jeeptracks. My RAM Podium is doing a great job and in all these steep climbs, I feel super and I can move more and more to the front... I love this Italian part!! I know its consuming a lot of energy and I really need to concentrate on my balance, but I can't help it: with every climb, I can catch other riders who probably started too fast. For me it's motivating and after getting back to Rob, we keep on pushing forward together. The enduro section is nothing special, just another skislope with invisible tricky ditches and I am "happy " I can see the rider in front of me crash as it warns me just in time for another big whole… After km35, we get back to climbing and now i can concentrate again on Rob with the powermeter. The climbs are steep, but I feel perfect and so I enjoy every km till we arrive again on the first top. From here we turn back down on the same gravel road we climbed… and people are still climbing here!! So, super dangerous!! We keep on the right, they climb on the left but it only takes a fraction of a second of distraction from one of us to get disasters. I had a scary moment, but all goes well and after some kms with people, we finally see an open road and so it's time to fly. Sure, I have to be careful, because you never know how sharp the turn are and they all feel different at 50km/h+ than during the climb… I jump ahead of Rob and try to find a good technique for gravel. Just before the end, I almost get it, but now we have some final trail to the finish and after only 3hrs its over again, 10th place, jihaa. No time for a decent pick nick, because I see big thunderclouds coming, so, straight to bikewash and to the camp only 1km away J.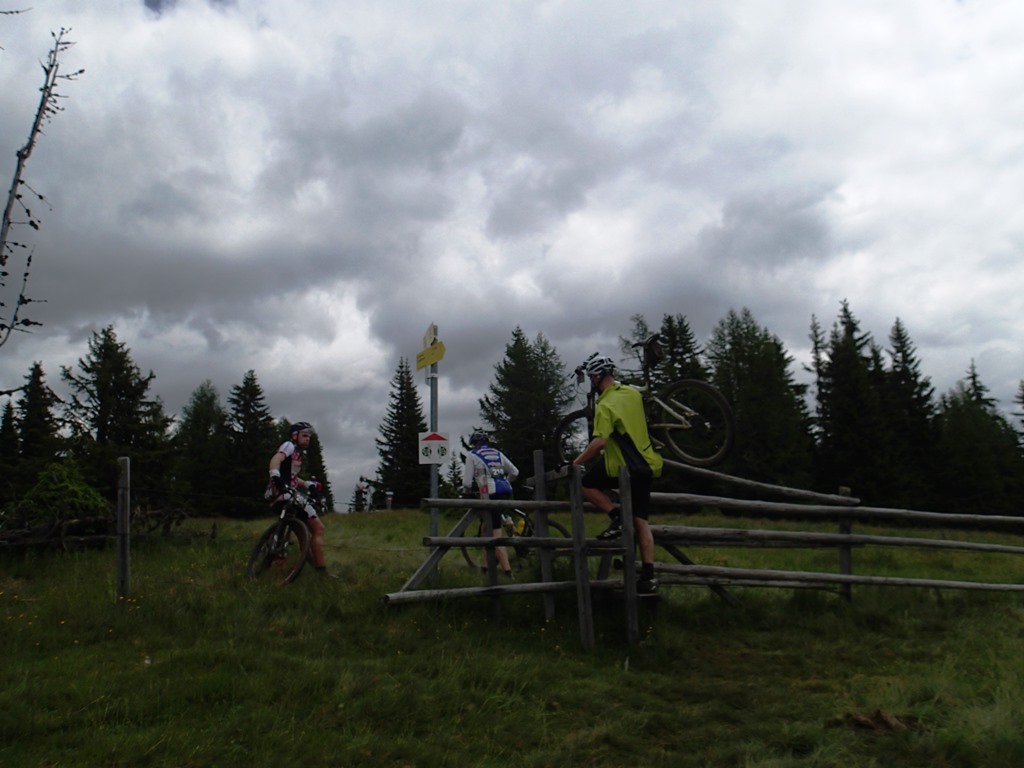 Stage 4 : Sabotage day ;) : Tropolach-Weisensee: 70.5km, 2000hm
From experience, I know the last day is the hardest. No, not because you get more tired, but because everybody is suddenly 20% faster. As there is no more tomorrow, everybody will give everything to make a final move in the classification. I didn't study the results and I will just do what I did all the days: ride my pace. The organization must have felt sorry for us, as today we will be riding the first 20km!!!! neutralized! Or is this sabotage? Anyway, by now, I found some nice guys like Stefan and Sauser to have a chat with and so the time behind the cars passes fast. First hill is here and of course, we sprint up. Hmm, it doesn't feel so bad, I can keep up with the others and so I stay in the front. After only 3km, I see a first group is slowly escaping, but no stress, I feel good with my second group. Todays stage has only some shorter climbs and so it's a different style than yesterday. I find Rob again and this means I am doing fine. But, now I realize my group is nervous and aggressive. They are pushing me and before every descent (where I go faster) they jump in front of me with a sprint to slow me down… In the climbs they don't let me pass, I even get some elbows? What's this?? I get sick of it and try to get to the front but again, a rocky mountain teamrider jumps in front , reads my starting number and says something to the group. I never understood what was going on till now when I see the classification… These "pro-riders" were scared of me, I was threatening their position and this was their reaction… But ok, at that point, I thought they were just over excited from the last stage, so, I didn't mind too much. At km 45, we were riding in a 8 person group, but now nobody wanted to take the lead, the speed went down drastically and I was talking to Rob about what to do when Sauser passed us after he punctured. Rob had an incredible reaction and he jumped to the wheel of Sauser, I was too late. Within a minute, they had a huge gap and so I didn't saw other options then to speed up with the full group behind me. After 5min of pushing, I asked for help, but again: nothing, only sabotage in slowing me down on purpose. Now I got pissed and so I went full speed to the top, kept my first position and went down with my new gravel technique and yes, it worked, I lost the group, I was gone alone… 1 climb to go and so I went to overdrive. I could see Rob in the distance and I decided to try to close the gap. But, from behind, also 1 rider came back, the leader of under 23 category. When I got to 15sec of Rob, the young boy came to me and together it was easier. Now, it started raining, but, only some kms to go, so no problem for us. Surely, the last descent was … a skislope and so I went down slow. After all these years, I know the last kms are the most dangerous. You forget to concentrate, already with your head at the finish and that's when it happens. Plus, after yesterdays crash examples in the ditches, you just never know. The young boy does the same, but after only a couple of minutes, one of the riders of my sabotage-group flies past us. Hmm, nope, not gonna happen. I leave some distance and also start to speed up. If there is trouble, I will see him fly, so it's "safe". No problems and we get to the final km in a bumpy field. Only 300m before the finish going on a slightly uphill, the guy in front makes some strange maneuver and crashes. I slow down to push him up to speed, but surely I keep some energy to pass him on the finish where I get 11th place.
The race is over but not the troubles… It is pouring rain, so I quickly take the rainjacket and start looking for the organization. I find the bags just behind the finish line, but I decide to first drive to the bikewash, 700m further up the hill. After cleaning the bike, hmm, where to leave the bike? In the bikepark? Well, its 12.30 and the park only opens at 13.00, oioi, I drove too fast… Anyway, I leave it there and I walk down for my bag. Then 300m with 15kgs to the showers and… 6 showers for 800people. I am with the first 20 people in, but when I leave, the hot water is already over… So, 750 people will have a nice reward after riding half a day in the cold rain: an even colder shower… After the shower, I take my 15kg bag back to the finish to ask what to do with the luggage in the hours before our bustransfer back to Bad Kleinkirchheim. Nobody knew and finally I decide to go back up the hill to the bikepark to put it with my bike. So, 40min of walking later, I am super hungry and I decide to go for the buffet at the finish. Hmm, nothing??? Man, impossible, but true, no final feedstation like all the previous days. We can go for 1 spagetti and 1 free drink further down the hill. Better than nothing, but strange! Again, I am wondering how all this can happen in an organization with 25y of experience???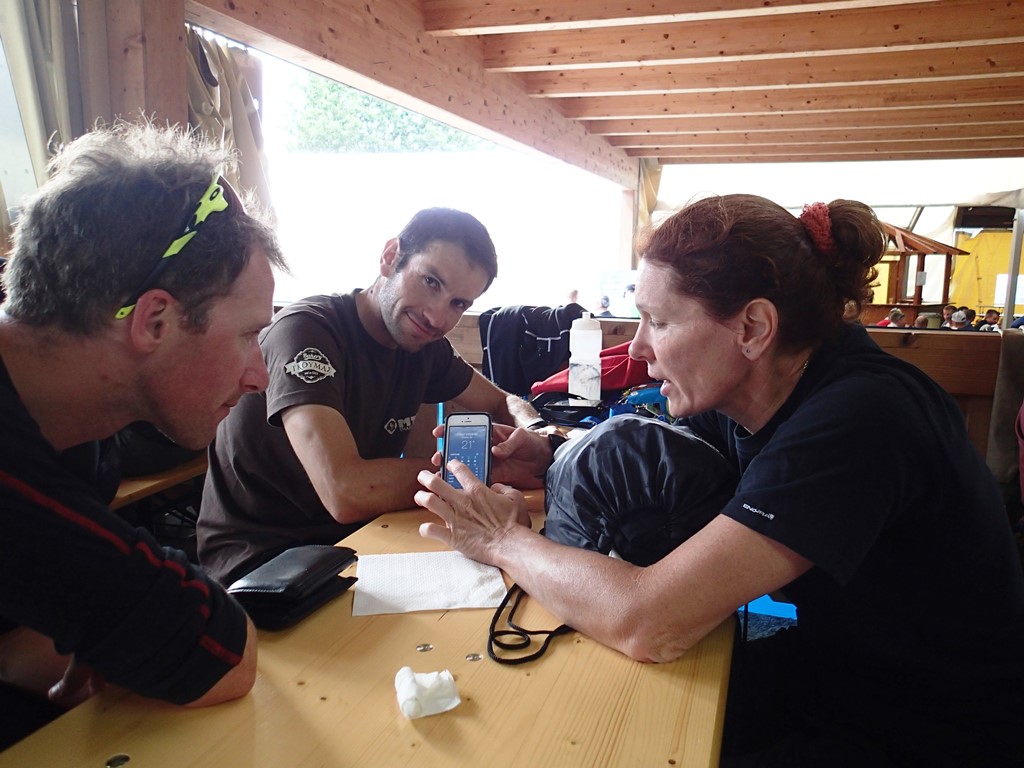 Conclusion:
Is the Protective Four Peaks the adventurous small brother of the Transalp? No, it is just the small brother J. Yep, shorter stages, less days, cheaper, a little lower level of organization but don't get me wrong, it's still great, but just not at the same level of transalp where everything feels like a holiday, no mistakes possible.
So to me it looks like the organizers have found a new market: the perfect stagerace for "beginners", for people who want to try stageracing in the alps. With only 4 days and average 60km stages + solo formula instead of the usual team system, this is the perfect race to see how you will cope with racing in high mountains day after day. It's the perfect race to get experience for bigger adventures, maybe for the Craft Bike Transalp next monthJ.
So, another adventure is over, a little sad to leave home but I already start dreaming of the next one…..hmm, Mr organizers, there is still room for a 3rd race, the adventure transalp version… I think that these days the level of a huge group of bikers is high enough to create a tougher version, a trailversion. It's still a unique place on the market to combine this high level of organization with some real trailbiking and I do hope I will see it coming soon J. Aaaaah, need to sleep first but I am already dreaming…
See you soon!