So, 2015: same weather conditions, same new bike and working hard to get back to my old shape. So, this wouldn't only be a nice day of racing in Bükk, it would also be a good test to see how fast I am improving by comparing todays result to the last years result…
After last weeks middle distance in Szilvásvarad, I recovered very fast and I was able to make power intervals on Wednesday and cardio intervals on Thursday. So, theoretically, I had done my homework to become stronger, but also more tired… Racing every weekend + training to the limits during the weeks isn't going without any sacrifices. It's a thin line between training and overtraining and so I need to be very carefull. So, no killing myself today, but a balanced strong pace and if there would be any sign of my body that this race was too long, too hard,…, I would just get out of the race without hesitating!
So far the plan and the preparations, time to race! 10.30 and it's funny to see all the racers trying to keep in the shades. Too hot already and we still have to get started, not very promising… The start is neutralized behind a nice VW bus and once down in the valley, the race is on. I take first position and we start the long first climb. Luckily, most of it is in the forest and even next to a small river to keep the temperature down. I concentrate on my HF and try to find my pace. After 5kms, I feel good and slowly I get away from the rest. Today, I am on my SRAM XX1 transmission, and I am very happy to see that even on the steepest climbs, the 32T is sufficient. Also on the downhills, I never get short of gears and so I get more and more convinced that it will be ok to go stage racing on the 32*42-10 transmission. Before I realize it, I arrive at waterpoint 1 and this would be the place to fill up my 2*750ml Hi5 bottles every loop as it was after the biggest climb at the highest point of the loop. From here, life gets easier with nice flowy tracks and trails mostly downhill, but also with some small steep climbs to break the pace. It's a great test for the body and the bike and I am having fun. The only concerning detail: the temperatures: coldest point: waterpoint 1: 25.5 degrees, hottest point: the last climb in the open fields: 35+ degrees. I am sweating a lot and I know I am losing minerals too fast. But, being old also means being experienced and so I did put extra salt in my bottles before the start + I took Hi5 Zero mineral tablets with me taped to my frame. This way I can put the tablets in the fresh bottles on the asphalt stretch just after the first waterpoint and the plan works perfectly! When I get to the beautiful open fields, I can enjoy my fully to the maximum on the hard bumpy jeep tracks. Sure, I was still surprised to see the deep gutters coming to me at 45km-h, but thanks to the organizers who had sprayed all the obstacles in fluo orange, I was alerted and I could jump over – go around it. Just some kms further, they had also cut the grass where I had a surprise crash in 2014. Now it was perfect as you could easily see the good line, thanks a lot! After this fast fun descent, it's time to work again, first passing waterpoint 2 on asphalt and then into the hottest climb of the day. It's a combination here of an invisible climb (it looks easy, it feels hard) + no wind + open sun that makes it tough! But, the motivation is that after some 2kms, you get back in the nice cool(er) forest, so I just focus on that.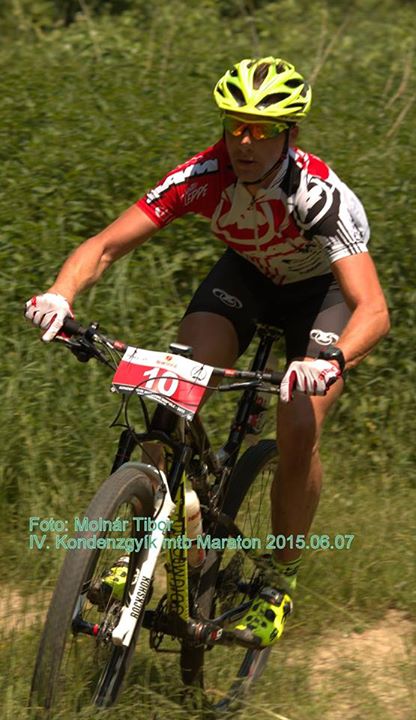 From here, the loop is almost over, but I must have forgotten the small steep climbs killing the legs. It's a real xc track here with constant changes from fast descents to steep short sprint uphills (well, sprint was ok in first loops, the last loop felt somehow different ;) ) . Everything still goes by plan till the last kms of the loop. Here, an old man sends me into a road that I don't remember, more to say, I know it's not the one from last year!?? Did the organizers change the loop? Or, am I sent into the wrong direction? After 400m asphalt I am quite sure I'll have to turn around, but..., there is a sign… I turn into a muddy trail and yes, more signs, so, ok. And, some kms later, I do get back to the same asphalt road that climbs back to the finish, only a little bit too low in the valley, but also here, there is someone from the organization showing me the way and so I realize the track has changed.
In the second loop, everything goes perfect, but when I get to the last kms, there are new lints showing me now the same trail as last year?? Well, that a surprise, but again: signs are good, I recognize it from 2014 making things easier and so this loop is a little shorter J. After 2hrs 14, I start on my last loop and I decide to slow down just a little. Unlike in the last years, I now already think about next week and I know its smarter to go easy now to make sure to recover fast again to get another training during the week. So, on the steepest parts, I can shift back 1 more gear and enjoy. This way, no suffering till the end, but a nice enjoyable last time on the loop, looking around to the beautiful landscapes. What a good day! After 3hrs23min I arrive to the finish and I still feel ok, so that's a great thing!!
When I compare the racetimes to last year, I see I am doing similar laptimes and so I think I am getting close to shape, great! Now is time to recover a week, maybe 1 hard workout, because in 10days, I will go to the 4peaks race and recovering and resting will be more important than another killing training J.
So, looking forward to a nice relaxing week and hope to see you in the Crosskovacsi marathon next saturday!
Wouter